copy of ALEX denim Indigo Bleu
Looking for the must-have jeans? No doubt that these jeans will complement all your outfits, whether you're in the office or at after-work parties.  
fabric :
A soft denim in indigo blue with the authentic charm of the weave. A tobacco-coloured stitching thread and old bronze haberdashery will finish to flatter this traditional side.   
turn-up :
An ecru turn-up, woven in indigo blue, for a traditional look. An open seam in red foam stitch, brings a touch of color always nice to match with an accessory.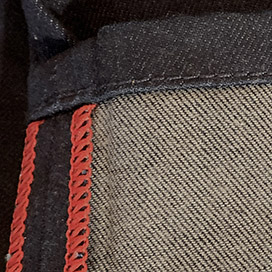 hem :
rather tight, for a modern cut
overall fitting :
can be worn quite close to the body because the material is very flexible. You can therefore imagine being half a size smaller than your standard CUB jeans size.
En savoir plus
You might also like
fabric : You already know the classic denim fabric, woven with an indigo thread in the weft and an ecru thread in the warp. There is even more comfortable than this kind of FLEX denim: a knitted material (like a polo shirt) which, moreover, associated with elasthane to keep its shape after extension.  An indigo blue canvas enhanced with a vintage wash...
Denim strech material but traditional jeans look. Can be worn in a casual version with a simple polo shirt or T-shirt. Button & rivets : Antic brass belt button, fly and pocket rivets in old bronze color stitching : Jeans stitched with a honey / tobacco color thread (authentic way)  Dare to wear these jeans with a cuff: ecru (blue screen) and...