Composition & Entretien
Matière principale: 83%co 15%PES 2%el
Lavage à 30° C
Pas de nettoyage à sec
Pas de sèche-linge
Chlore autorisé
Repassage faible
fabric :
You already know the classic denim fabric, woven with an indigo thread in the weft and an ecru thread in the warp. There is even more comfortable than this kind of FLEX denim: a knitted material (like a polo shirt) which, moreover, associated with elasthane to keep its shape after extension. 
An indigo blue canvas enhanced with a vintage wash (authentic jeans look)
button and rivets :
Blue button, no rivets for a more modern look
stitching :
Jeans stitched with a honey / tobacco color thread (authentic way)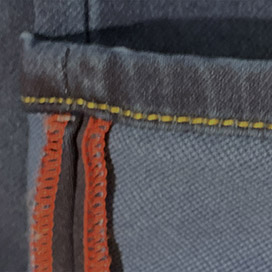 hem:
The lower leg is rather slim, for a modern cut.
Dare to wear these jeans with a cuff: light blue tint and embellished with an open seam in red garter stitch for a touch of fantasy.
fitting :
These jeans can be worn close to the body, because the material is very flexible (decide if you dare a half size smaller than your traditional CUB) 
Entretien
Care instructions: Wash and dry separately inside out. Machine wash at 30°C using a detergent without bleach, dry and iron at a low temperature (do not tumble dry). Recommended inner leg for your height: /32 up to 1m75 /34 up to 1m84 /36 up to 1m90 /38 up to 2m05
Entretien
Care instructions: Wash and dry separately inside out. Machine wash at 30°C using a detergent without bleach, dry and iron at a low temperature (do not tumble dry). Recommended inner leg for your height: /32 up to 1m75 /34 up to 1m84 /36 up to 1m90 /38 up to 2m05
Composition & Entretien
Matière principale: 83%co 15%PES 2%el
Lavage à 30° C
Pas de nettoyage à sec
Pas de sèche-linge
Chlore autorisé
Repassage faible
En savoir plus