Composition & Care Instructions
Main fabric: 98% coton 2% EA
Machine wash at 30° C
No need for dry cleaning
Do not tumble dry
Ironing low
Looking for the perfect jeans for the summer style? With its indigo denim fabric with a specially designed thickness (10oz), there's no doubt that these jeans will complement all your outfits, whether you're at work or out for a walk in the sun. 
the fabric :
A soft indigo blue denim with the authentic charm of the weft's ecru stitches and old bronze haberdashery will flatter this traditional side. We have chosen a honey coloured stitching thread for an authentic spirit.    
the turn up :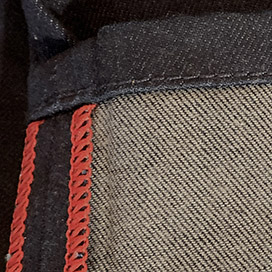 A natural turn up, woven with indigo blue, for a traditional look. An open seam in red moss stitch, brings a touch of colour always nice to match with an accessory.
the hem :
The hem is rather straight and adjusted, for an up-to-date fit
the general fit :
CUB's traditional adjusted fit, suitable for all body types, from the slimmer to the larger man.
Composition & Entretien
Composition & Care Instructions
Main fabric: 98% coton 2% EA
Machine wash at 30° C
No need for dry cleaning
Do not tumble dry
Ironing low
additional information (when available)