The cloth used by the forerunners was the "burat de Nîmes", a fabric made from cotton waste in Nîmes as well as in northern Italy and especially in Genova. The name jeans is a contracted version of the word "genovese" meaning "Genoese", the name used for the trousers worn by Genoese sailors. Later, the indigo-coloured "serge de Nîmes" (the origin of the name denim) was imported. In the 19th century, jeans made of cotton twill with warp and weft threads of the same colour were generally used as work clothes. Denim (made of twill with blue warp threads and ecru weft threads) was particularly appreciated by mechanics for its highly resistant qualities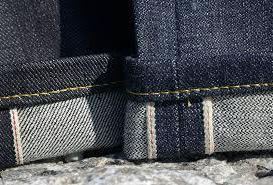 Denim is a tangle of indigo and ecru threads. On a loom, the indigo threads will be the warp threads (vertical) and the unbleached cotton threads the warp. Everything then is a story of weaving… looking at the inside of jeans, it is even more visible: - oblique linear weaving (authentic, right hand / left hand twill) - alternating weaving right / left (broken twill) which maintains the cut of the canvas The edge of each of the rolls of woven jeans is covered with a thread of contrasting color (historically red). It is this same edge that some purists look for on their selvedge jeans.
All of our trousers are cut from high-end materials. The denims and fabrics used by the CUBjeans brand have been selected for their quality, modernity, appearance, color and comfort (2% stretch which provides optimal fit while having the look of 100% jeans cotton).
CUBjeans colors and washes:
If the weaving of CUB jeans remains of the twill type, the colors of threads used can be different and bring a completely different physiognomy to the jeans. Likewise, CUB stylists can intervene on fabrics by subjecting them to: 
an over-dyeing (the whole of the jeans is immersed in a bath of color) 
an internal scraping (only the reverse of the jeans will have the chosen color), 
application of a resin on the outside of the jeans (slightly shiny layer which will fade over time, but which protects the color of the jeans while giving it a more dressy look)
By raw denim we mean a canvas denim weave (twill), which has not undergone any washing capable of lightening its color. They are perfect when looking for classy jeans to work on the offices for example.
However, CUB jeans are all washed well (household washing) once before you try them, so that the inherent withdrawal in washing is controlled and thus guarantee you an optimal fitting 
A dark grey stretch denim. A nice alternative to the dark blue jeans. The fabric is stitched with an anthracite thread for more elegance.
Stretch denim fabric, woven with ecru yarn and indigo yarn. These jeans have a light treatment which gives them good color resistance. Honey-colored quilted canvas for an authentic side.
A stretch denim with a very authentic look (indigo blue, tobacco coloured stitching). A basic that everyone wants to have in their wardrobe.
A very elegant stretch denim, in a blue colour reinforced by a navy blue overdye. The stitching is also navy blue. For the office, it is really ideal.
The vintage designation is linked to the already worn effect given to jeans. A bit as if we had brought out our favorite jeans that have followed us for years. At CUB, these washes are as respectful as possible for labor and the environment.
Jeans with a vintage effect are very suitable for a casual outing, unless you want to play it "Italian", by combining it with a very nice pair of patent leather shoes, a sober but chic jacket, and a well-cut t-shirt.
A light grey denim with a vintage stone wash. An interesting visual effect that underlines the stitching and construction details of the 5 pockets. The charcoal grey stitching thread plays with the codes of authentic jeans, in a revisited version.
The light blue jeans that everyone keeps in mind when thinking about the 70's. This colour is of course perfect for warm days and casual moments.
A material close to authentic jeans, but with comfort made exceptional by its very particular weaving ... sweatshirt style ... jogging comfort, jeans look.
CUB has selected its flex material in black version. You get black trousers, slightly satiny passepartout as comfortable at the office as in a more relaxed evening.
Ecru cotton twill stretch fabrics, dyed in the mass, for a powerful and persistent color. For an even more pleasant touch, the canvas receives an emery finish which gives it a light peach skin look.
A very light beige colour that is very easy to wear and combine. That's certainly why it's an essential basic.     
A blend of linen, cotton and a little stretch, an absolutely desirable material for hot seasons. Natural, elegant and efficient 
Navy color that will go well with all your clothes. Breathable and natural material and optimal comfort thanks to an elasticated back belt. Do you already see yourself on the marina?