L36 navy (Marine) chino
Essential Navy Blue Trouser
Composition & Care Instructions
Main fabric: 98% coton 2% EA
Machine wash at 30° C
No need for dry cleaning
Do not tumble dry
Ironing low
Trousers that will seduce you, that will match your wardrobe and that will also harmonize with most of your office or urban outfits.
trousers details :
Italian pockets (inclined on the hips) with a 6th pocket on the right side. 
The front pocket, secured (avoid letting your cell phone or your CB card holder) is an asset of these trousers.
Very sober stitching and embroidery threads.
The back pockets are piped for a chic touch.
fitting :
Slim-fit chinos.
The traditional fitted cut from CUB, suitable for all sizes, for both fine men and the strongest, without forgetting tall men in its 38 length version.
If you are used to ordering the ALEX model, up to w36, choose a size larger as the trousers belt is tighter.
fabric :
Very beautiful navy blue cotton, dyed large bath (color in the heart of the fiber), slightly emerized for a touch of peach skin. 
hem :
The lower leg is rather adjusted, for a contemporary cut
shoes :
Wear this navy blue chinos with light or dark brown shoes for a classic combination.
You can also choose white shoes if you wear white shirt / T shirt.
to be worn with :
Can be worn easily in monochrome color touches.
These navy blue trousers will accompany you throughout the year by associating with summer colors as well as more winter hues.
Composition & Entretien
Composition & Care Instructions
Main fabric: 98% coton 2% EA
Machine wash at 30° C
No need for dry cleaning
Do not tumble dry
Ironing low
additional information (when available)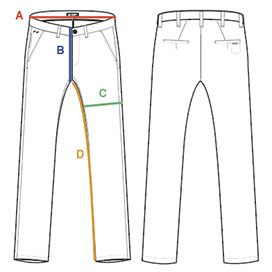 | | | | | | | | | | |
| --- | --- | --- | --- | --- | --- | --- | --- | --- | --- |
| weight / height | 70 kg / 154 lbs | 75 kg / 165 lbs | 80 kg / 176 lbs | 85 kg / 187 lbs | 90 kg / 198 lbs | 95 kg / 209 lbs | 100 kg / 220 lbs | 105 kg / 231 lbs | 110 kg / 242 lbs |
| 190 cm / 6'2" | w29 L36 | w29 L36 | w30 L36 | w31 L36 | w32 L36 | w33 L36 | w34 L36 | w36 L36 | w36 L36 |
| 195 cm / 6'4" | w29 L36 | w29 L36 | w30 L36 | w31 L36 | w32 L36 | w33 L36 | w34 L36 | w36 L36 | w36 L36 |
Indicative table to help you to choose the size of jeans and trousers CUB according to the height and the weight of certain customers CUB.
This information is to be adjusted according to your own morphology and your wish to wear the CUB styles more or less loose.
You might also like
Regular price
€99.00
Price
€79.00
A stretch fabric dyed antharcite grey for these CUB coloured 5 pockets. These trousers will bring a formal touch so necessary to your silhouette. The flex material used has been acclaimed for its quality and comfort by CUB customers for 3 seasons already.  fabric : You already know the classic denim fabric, woven with an indigo thread in the weft...
Regular price
€99.00
Price
€79.00
Your look will change dramatically if you wear these dark grey trousers with a pair of white tennis shoes (more summery) or a pair of dark brown shoes (more autumnal) or black shoes. to wear with : If you want to wear your charcoal chino in a sober way, you can pair it with black, navy, white, unless you have a preference for ecru, beige. If you feel...