ALEX Winter Blue
Heavier Denim Stretch, Brown Turn Up
Composition & Care Instructions
Main fabric: 98% coton 2% EA
Machine wash at 30° C
No need for dry cleaning
Do not tumble dry
Ironing low
Blue jeans model (5 pockets) with a fitted cut.
fabric :
Denim canvas made even darker by a brownish overdye.
Button & rivets :
antic brass belt button, fly and pocket rivets in old bronze color (antic brass)
stitching :
Jeans stitched with a honey / tobacco color thread (authentic way)  
Dare to wear these jeans with a turn up: brownish thanks to an over-dye which ensures a deeper color and embellished with an open seam in red garter stitch for a touch of fantasy.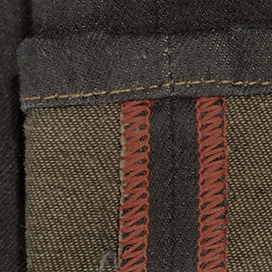 The lower leg is rather adjusted, for a contemporary cut
fitting :
the traditional fitted cut from CUB, suitable for all sizes, for both fine men and the strongest, without forgetting tall men in its 38 length version.
Composition & Entretien
Composition & Care Instructions
Main fabric: 98% coton 2% EA
Machine wash at 30° C
No need for dry cleaning
Do not tumble dry
Ironing low
additional information (when available)